OpenStack Virtual Data Center
A comprehensive Software-Defined Data Center solution. Contract resources and distribute them across multiple servers. Start private networks, add routers and manage firewall rules, load balancing and high availability using the automated OpenStack dashboard.
Software-Defined Data Center: a complete cloud infrastructure
Replace your data center infrastructure with an SDDC solution and take full control of your virtual equipment including switches, routers and firewalls, besides servers and storage. All managed in real time, using a simple but powerful control panel.
Simplify your IT management in a single contract that includes all your processors, memory and storage, instead of buying equipment that may become obsolete, contracting warranties and support, leasing data center space and contracting internet links, among others.
Evite preocupações como a compra de equipamentos que se tornarão obsoletos, contratação e renovação de garantia e suporte, locação de espaço em data center e contratação de links com operadoras.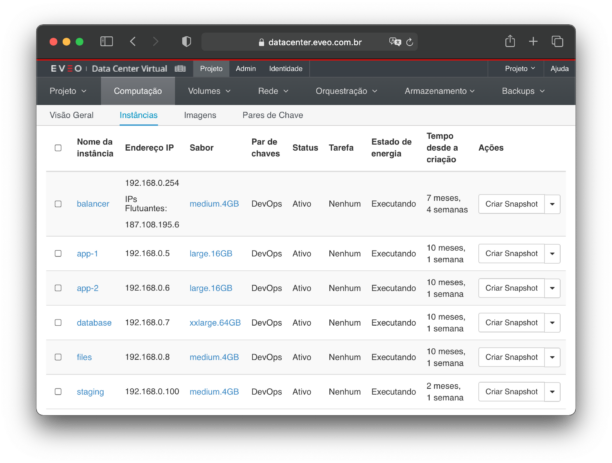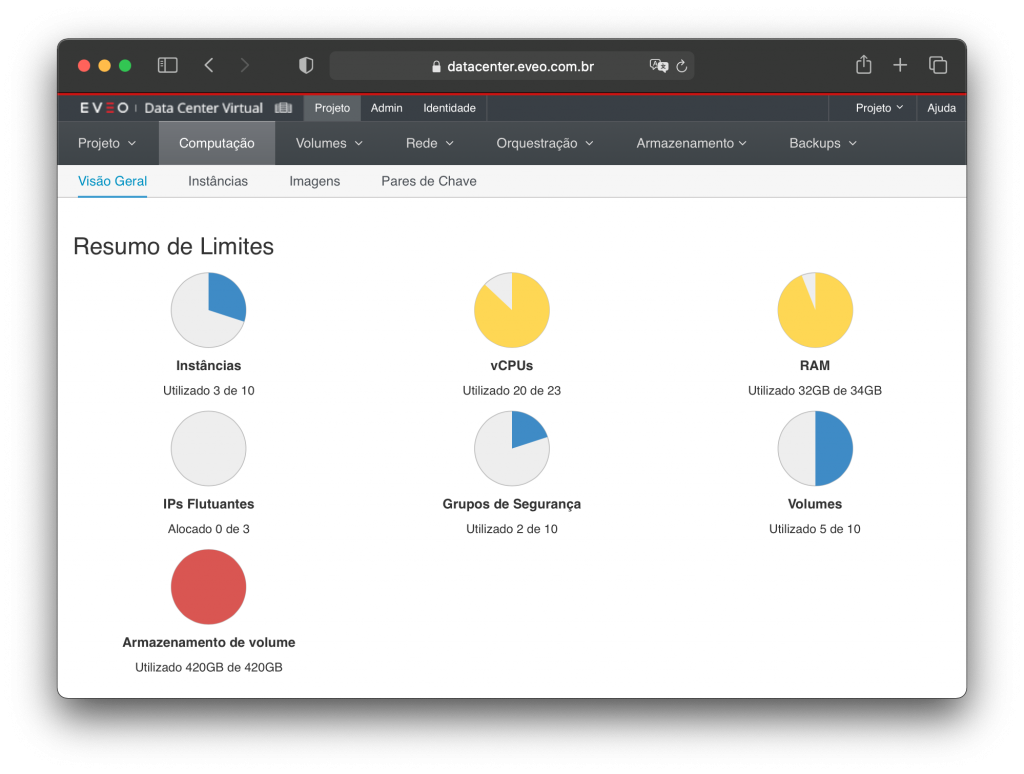 Complete implementation with integrated equipment that is controlled via control panel or API, ensuring not only complete control in terms of administration, but also a high level of adaptability.
As it is a public cloud in a network with security and isolation functions, the solution satisfies the requirements of a private cloud and can replace virtually any conventional data center function.
In addition, the system is guaranteed by Red Hat® certification, one of the world leaders in technology and synonymous with excellence in open source software.
Para facilitar a integração com a tecnologia, incluímos um treinamento personalizado, explicando sobre as principais funcionalidades, sendo complementado com suporte 24/7 em português para caso de dúvidas.
Grow your business with an OpenStack Virtual Data Center!
Here are some examples of businesses that can grow with an OpenStack Virtual 
Conheça alguns dos principais clientes que utilizam o Data Center Virtual Openstack
The official inauguration of the school was on March 6, 1926, with the blessing of Archbishop Dom Duarte Leopoldo e Silva. Soon after, the establishment expanded with a new building, offering better conditions for the growing number of students. The school, which is one of the best-known schools in greater São Paulo, educates students about culture and builds character based on Christian principles. With a system composed of multiple servers responsible for all the systems used, EVEO's OpenStack Virtual Datacenter proved to be the perfect platform for the best possible user experience.
Driven by a passion to transform business with technology, for 25 years BRQ has supported the digitization of banks, insurance companies, telecommunication companies and other leading companies in their sectors. It offers a number of proprietary and third-party solutions to accelerate the introduction and development of exponential technologies in customer businesses. Being responsible for several critical missions linked to its solutions, BRQ chose EVEO's OpenStack Virtual Data Center as the ideal infrastructure to ensure excellence in delivering results.
Working for the inclusion of people with intellectual disabilities since 1961, the non-profit organization APAE São Paulo has won a number of awards over the years in the health area for the work they carry out. Due to the sensitivity and critical importance of the systems needed for this work, APAE's technology specialists chose EVEO's OpenStack Virtual Data Center solution to create an interconnected network of servers with different technologies and functions, which also serve the institution's website.
Talk to a consultant to receive a quote.